Metal Cutting Services
When it comes to metal cutting for your products and projects, JELKE'S has the team, the tools and the training to deliver. From the latest laser cutting systems to waterjet, plasma and more, we can easily turn a wide array of flat and tube stock into the parts and components you need.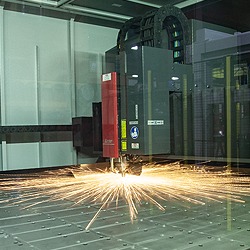 Laser Cutting Services
Our laser cutting systems are state-of-the-art, and with both tube laser cutting and flat sheet laser cutting capabilities, we can process material quickly and precisely to create perfect parts for your products.
Waterjet Cutting Services
The latest waterjet cutting systems give us the ability to process very thick material with precision. In addition, waterjet cutting does not introduce heat into the process which ensures the utmost precision.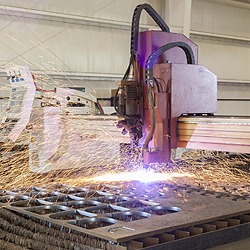 Plasma Cutting Services
When it comes to processing heavy plate, our plasma cutting systems incorporate drilling, tapping and countersinking in order to maximize efficiency and precision on heavy-duty steel parts and components.
If you have specific questions about our metal cutting services, please contact us today to discuss our capabilities in depth. Our team of expert fabricators is standing by to answer your questions and determine how JELKE'S can help.